And the time of the year is here, where Kolkata rises after sun-set- the ramzan time. After a full day of roza, the muslim community here takes on the streets with their offering of clothes, ittar and off course food items and we are more than happy to join them in their celebration. And, as usual, our ramzan foodwalk starts …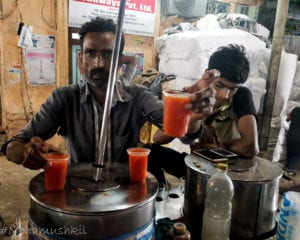 Last week was my this year's first visit to the chitpur area, the famed Zakaria street and was more than happy to see the offering. So, here I am trying to provide a brief foodie-roadmap for the same.
You can check the location of starting point here
We started from the Nakhoda masjid on rabindra sarani. During this time of the year, please reach there after sunset (food stalls start from the afternoon though) so that you don't miss the glitter and aura of the place.
Take the next lane from the masjid and start cursing me. Because, this time, there is no road beside the mosque. Its a mish-mash of numerous make-shift stalls on road. Welcome to the Ramzan time in chitpur. Enter the lane. I promise you won't be disappointed. A little further and you'll find the stalls selling large bread pieces. Don't be surprised. Those are the things you've heard so much about. They are called Bakarkhani and the second variety is sheermal.
Bakarkhani is a thick, crispy (often layered) flat bread. Its almost biscuit like textured and smeared with poppy seeds before baking in oven. They serve 3 varieties here. Succumb to the snob effect and buy the costliest one- 80/ per peice and I promise you won't regret it. For us, it went extremely well with morning tea (after re-heated a little in OTG).
Now, sheermal is kind of a more sweet/ soft variety of naan, where warm milk is used in the dough and it more resembles the danish pastry. We again purchased the prime version of 25/- a piece and the next day gorged on it with the afternoon tea at home.
While tea is here, how can 'Biscoot' be left behind for a bong ? And we ended up grabbing some nankhatai biscuit. This is a variety of shortbread believed to have originated in Surat during the Dutch era. We got a below variety at 100/- a kg and around 8-9 pieces came at 500 gms. But its pretty mediocre in quality and avoidable.
Go a little furthr and at right-hand corner of the first crossing, you can find Taskeen shop. The were making some brilliant Chicken Changezi and Maahi Akbari. Do not bother, you won't find Chicken Changezi in wikipedia. Its the desi muslim answer to KFC-ishtyled chicken. Large chicken pieces are double fried and served piping hot. Maahi Akbari is large Katla fish chunks marinated and deep-fried. Damn yummy and a must-have….. Chicken Chungezi was coming at 440/- a kg and Maahi Akbari was 740/- a kg.
While I was chatting with the shop-boy, he suggested "saab, thora falooda bhi taste kijiye ? " "Karaiye" was my response and I was served with one of the best falooda I ever had in my life along with a piece of shahi tukra. Personally, I liked the shahi tukra of Royal Indian Hotel better, but this is not bad by any means… Falooda was 40/- a plate and so was Shahi Tukra.
After all these sweets, I was craving for some ghosht-Roti. And as per suggstion by my good friend Deepanjan Ghosh, I went to Bombay Tea house.
This is at the first left lane corner from the Nakhoda Maszid. They serve a brilliant beef chaap– to be paired with tandoori roti (all year long) and a pretty good Beef Boti kebab (Personally I like Adams' version better though). The quality is consistent throughout the year. Go for it, definitely you won't regret it. But, let me warn you. The biggest challenge this time of the year is to find the shop, as its name-board is covered in shamiana and posters now.
Our last stop should be Haji Allauddin Sweets  at the phears lane just a little way back for their Battisa. It's primarily a halwa with 32 secret ingredients and loaded with dry fruits. The dish is seriously heavy. The best variety there is 400/- a kg and topped with mawa, makhana and coconut slices- go for it. You won't regret. And, finally, as per Shadab miyan- the owner of the place proudly says "our gulabjamun is world famous in Kolkata". But seriously, move along haldirams and Tewaris and you enter this place. The slight saltiness from mawa and aroma of ghee takes this thing a notch higher.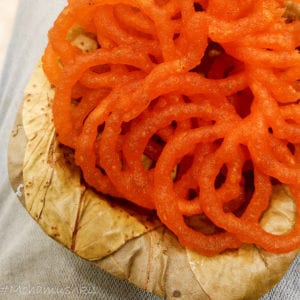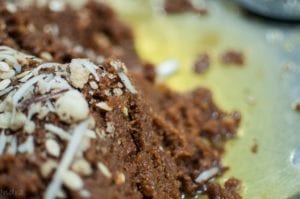 For the kebabs (e.g. Sutli kebab and kheeri kebab), you may like to read this post .
Now, this year (2018), I've found this shop after Delhi 6 (beside Taskeen). they are making a killer Chicken Malai Kebab and chicken Pyare Kebab. The chicken malai Kebab is large chunks of chicken marinated in reshmi kebab marination and finished in tandoor. The whole finished product is then tossed with cream, butter and slight lemon juice. Result is fabulous. On the other hand, chicken pyare Kebab is chicken sheekh kebab sprinkled with chat masala.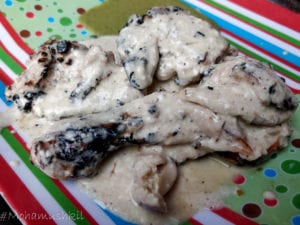 And coming to haleem, I can't stop myself from giving gyan even here. Haleem originated during roughly 10th century in Arabic countries and probably was named Harees. We get its reference in Kitab Al-Tabikh (Book of Recipes), the world's oldest surviving Arabic cookbook. The same dish was introduced in India by the arabic soldiers in Hyderabad Nizam's army and hence Hyderabadi haleem was invented. Kolkata haleem is somewhat of a different texture and uses a large variety of dals rather than wheat and hence the different texture. But, let me be honest, I personally am not much of a Haleem guy,  but this year I tasted it in Sufia. They sell it in 4 varieties- beef, chicken, mutton and hold your breath- Magaz. I tasted Beef and mutton variety and it was good- recommended. 
You can check about my experience at sufia in details here …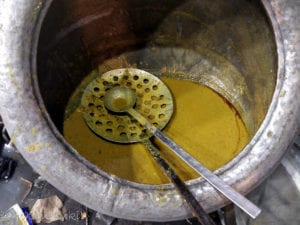 And if you have some time, in hand, you might like to watch my foodwalk video of 2017. 
You can check my regular foodwalk experience here
Bon Apetite !!!
Please feel free to comment and share.
I can be reached at 9903528225 / [email protected]