Somehow, I always felt, there lies multiple Calcutta inside our very own Kolkata. The city with its old world charm has always fascinated me along with the new-age facilities. In this hot scorching Indian summer, while finding a good cool drinks place, either we tend to end up at those numerous coffee shops with a glass of their unnecessarily pricey cold coffees/ smoothies or some lassi shops. But, where does Kolkata has to contribute here ?
In this post, we'll be finding and discussing probably the oldest sherbet shop in Kolkata, who is still giving tough competition (with its very limited capacity and one of the strongest fan-base) to the above two- the Paramount. As The Hindu says, Which started as a hideout for freedom fighters by Mr Nihar Ranjan Majumdar , after independence, became an actual roaring business. And though its a seasonal fare (its closed for a month in winter), the business hardly go down. 
You can check the location on google map here
Paramount lies at the corner of Collage square on Bankim Chatterjee St, just after the Mahabodhi Society. Its generally open throughout the year (because of strong customer demand) from Monday- Saturday 11 AM-9 PM. The good part of these bengali food joints is, as soon as you enter, you magically get transported to some magical era of old-world charm, an era where people used to be polite and a certain "Bhodrota"/ subtlety used to surround them. Such is this place. The place is a small room with stone-top tables and chairs. In the billing counter, you can find a small, fragile lady taking care of the billing needs. This place seems to be one of those very few place in Kolkata, where the entire operation is taken care by THE Majumder family members and not depending on the external resources-thus keeping a strong check on the quality.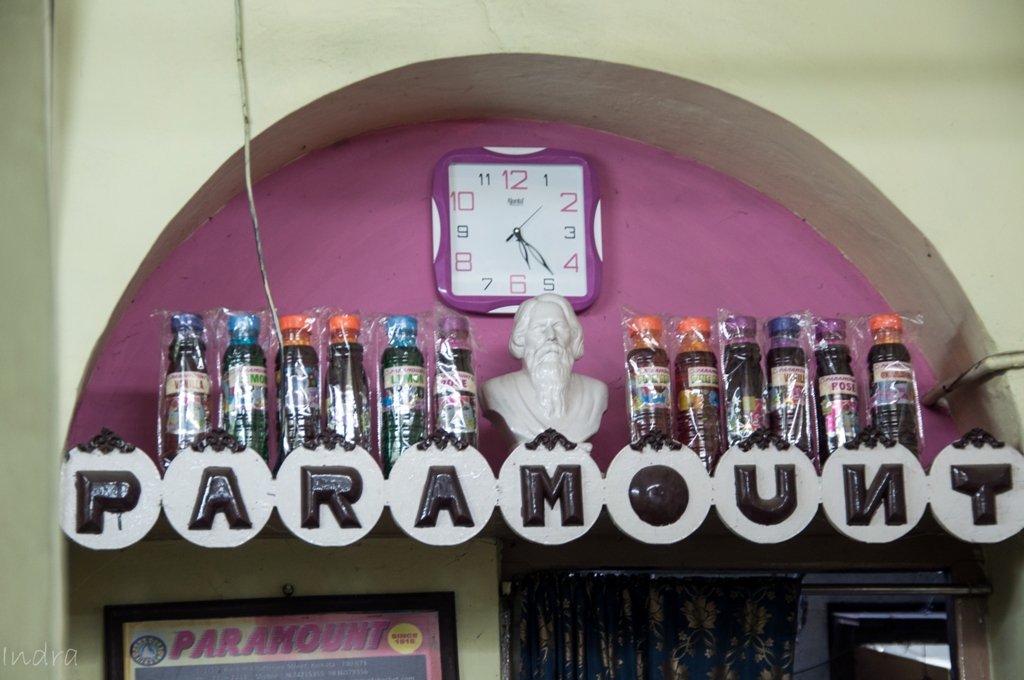 What to expect ?
Once you settle down on those rickety wooden benches, you'll be asked for your choice and mind it, the server gentleman will expect you to know your choice without even looking at the elaborate menu Now, that's the way it works here and after running the establishment for almost 100 years, it can't be changed. At this point of time, trust me and go for their Dub sherbet. at least to buy you the time to think for the next items. Its pure orgasm. Dub water and vanilla flavored sherbet with tender coconut extracts floating, you'll need a spoon (which actually they provide) with the straw. Leave the straw and sip secretly wishing, you could've mixed with a little vodka. Worry not traveller, you can buy this thing home in their nice packaging and can have it with a dash of Smirnoff. And P.S. the folklore says, this recipe was suggested by Acharya Prafulla chandra Roy himself for health benefit reasons. 
Once you're through with their thin sherbets, yo may like to move on to their cream based malai segment and in this scorching summer, what better than mango malai ? Again, you'll be tempted for Cocoa malai and Vanilla malai, so I would suggest to go in a group (at least with few of GF/ BF's- to split the offerings). All are good, but I have a special soft spot for Mango Malai. But frankly, I didn't like the dry fruits of top (more kinda non-bong touch), otherwise brilliant.
Something other than sweet ?
But, after all this sweetness, you might link something less sweet and the management has though of that also, the have tamarind sherbet and green mango. The tamarind and green mango extract is produced in-house and hence free from all harmful ingredients. The Tamarind sherbet is more tangy and spicy lovemaking (its a make or break situation) wherein Green Mango is more like a subtle first kiss with curd base with the extract.
My personal feel …
By this time, you should be quite full (both appetite-wise and pocket-pinch-wise). Let me warn, none of these items are cheap, by any means but the cost is somewhat justified. Where else, you can get a shop dedicated to sherbet, with proper seating arrangement, a waiter and a proper billing system ? People has been enjoying their favorites here from decades and Majumder family has been servicing them since them, knowing their individual preferences. So, let's join in and enjoy the quintessential bong sherbet culture….
Bon apetite !!!
Comments and critics welcome !!!
I can be reached at 9903528225/ [email protected]